Amanda Freitag Weight Loss – Amanda Freitag, an American judge and chef on Food Network cooking series, was a little bit overweight since she was a child. She had a strong desire to succeed in the sphere of food and cooking, as well as an avid hunger.
That's why Amanda Freitag weight loss transformation surprised many people. They wonder how a chubby person who liked eating could get slimmer and maintain her ideal body.
Who is Amanda Freitag
Amanda Freitag is famous celebrity chef who often appears on American TV Cable food network. She was born in New Jersey on 11 May 1972. Her cooking career started when she graduated from her college in early 90s.
And in 2003, she opened restaurant named Cesca Enoteca & Trattoria in New York. Now, she opperated restaurant in Dallas named Rise & Thyme.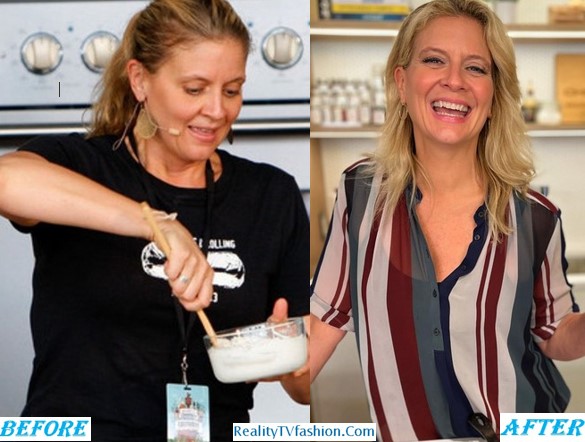 Amanda Freitag Weight Loss Journey
Amanda brought everything to school in a supermarket bag because a brown paper bag was so small. It was required in Amanda's culinary school that the food should look tempting.
Therefore, she perfected the art of preparing tasty sauces and buttery dishes. She just focused the taste of the dish when preparing it without considering the calorie content of the meal.
Amanda Freitag had concerned about her weight for a long time before finally deciding to make a change in 2011. She was also thinking of opening a restaurant in New York, close to her home. However, it seemed that it was just a plan. Instead of realizing the plan, she chose to manage to shape up her body.
One of her close friends told her about a magazine looking for busy yet successful female figures for a get-fit story. She was well aware of her health problems.
She couldn't stay in a plank posture for more than 10 seconds. She gave it a try, and the experiment resulted in a remarkable metamorphosis in her. She was assigned to nutritionists and trainers.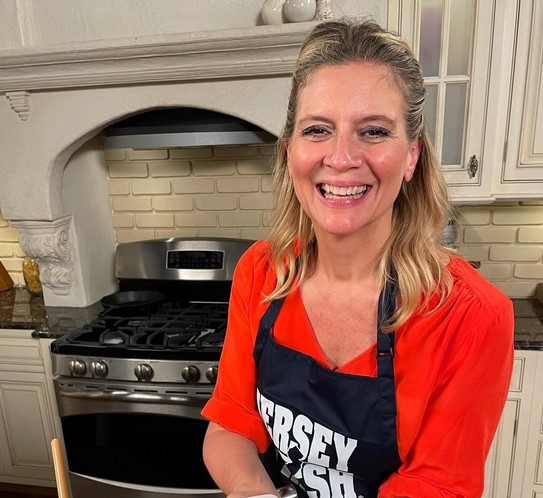 How Did Amanda Freitag Lose Weight?
She went to a gym class three to four times a week. She was also given some basic workouts to do when traveling and on the move. She used to work out and stopped eating butter and other high-calorie meals.
To her surprise, she dropped from 150 to 138 pounds in a matter of months. She also began consuming healthy meals that comprised more proteins, veggies, lean meat, and fruits.
Now, Amanda Freitag current weight is 66 kilograms, and it is very ideal with her height which is 5 feat 9 inches.
Knowing the strategies worked well, she tried to continue her new lifestyle while trying other types of exercise although it's so challenging. I had been attempting to incorporate exercises into my life without informing people for a long, long time," Amanda Freitag explained.
"I was a little uneasy the first time I walked outdoors to jump rope, but I just did it," Amanda continued. "Taking a walk around your home is what you need to do. You'll be alright if you stay busy." She also attempted to limit the number of calories in her meals.
Conclusion
Amanda Freitag was overjoyed with the experiment. She discovered that losing weight and changing her eating habits had allowed her to live a better and healthier life. She felt more active and energetic. She also gets happier in living her life.
Read Also : Maggie Haberman Weight Loss
Amanda Freitag weight loss and her commitment to the training regimen and adjustment to a healthier eating lifestyle would inspired many people who wanted to lose weight but didn't know how.
FAQ
In 2003, Chef Freitag teamed up with restaurateur Godfrey Polistina to open Cesca Enoteca & Trattoria on the Upper West Side. He initially served as the chef de cuisine at Cesca before moving on to become the executive chef at The Harrison.
Is Amanda Freitag a vegetarian?
Amanda shared a recipe for a kale and tomato stew as part of Oxfam's Eat for Good campaign, which encourages saving food, eating seasonally, reducing meat consumption, supporting farmers, and cooking efficiently. I have come to realize that I enjoy cooking for myself and have discovered that I may be secretly inclined towards a vegetarian lifestyle.
What food is Amanda Freitag known for?
Amanda Freitag is a celebrity chef and restaurateur who is known for her expertise in American cuisine, particularly with a focus on comfort food and using fresh, seasonal ingredients. She is also known for her appearances as a judge on the Food Network show "Chopped" and as an Iron Chef on "Iron Chef America."